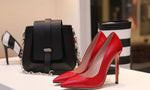 1. 

Flip flops
Yes flip flops. Because most hotel rooms have carpet in them. Carpets that hundreds of people have walked on before you. To transport yourself to your bathroom and shower. To use when you go to the hotel pool or grabbing a drink in the lobby. And the best reason: to show of your new pedicure. And beside all that they take up almost no space at all. See our picks for some great flip flops to compliment your pedicure.

2. Flats
Always bring some smart looking flats that will complement almost any look. Go for a save color like black or dark blue, or be like me and bring a pair in a bright color to spice up your outfits. Flats are perfect for roaming around, dining out, business meetings and I even ended up doing a desert safari wearing flats. Check out these great flats that go with everything.
3. High Heels
Because we all need our inner diva to shine, dont forget to bring your heels for dancing the night away or an important presentation you have to do. When I'm on a business trip heels always give me some extra confidence boost, so I always bring a flaming pair. I selected some heels that you can use for multiple occasions during your trip. See below the article.
4. Sneakers
Bring your sneakers if you are planning to do some adventurous stuff, or simply work out at the gym. They are also great for running errands or a shopping day. Be sure to bring sneakers that will
complement your other outfits as well. These are some great finds. See below the article.
So from now on no more debating on which or how many shoes you will bring, just these 4 pairs will get you through any trip and any occasion. The only task now is to figure out what to wear with your shoes.
More inspiration?
Read the article on How to pack for any trip.