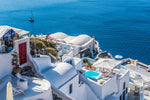 If you're like me you are always traveling and on the go. Do you have a trip coming up? I'm sure that you look forward to the travel, but not the headache of packing. Here are our top 10 tips to make preparing for your trip fun and easy.
We travel for 50+ days out of each year, for both business trips and leasure (read:adventure). These are the insider tips that we learned over the years, and would like to share with you now.
1# Start your packing list early
As soon as you hear that you're traveling, even before you've booked, you can already start your list on what to pack. 
Pro Tips: DO Keep your list handy! This makes it easy to add items as your trip nears. I keep a running checklist. DO Remember to keep your packing list for your next trip. You can also add what you were missing, for the next time.
2# Think about your UX
Your user experience (UX) during your trip defines what you will need to bring. Think it through step-by-step and prepare with 3 steps:
Where you are going?
What will be doing?
Visualize what you would like to wear and have with you. 
Remember to consider all UX's from the glamorous to the not-so glamorous, like these examples from our own travels:
Management team meet-up in: Air-conditioned hotel in warm-climate or Drafty boardroom in European city in winter. Sales meet at client's headquarters

Factory visit

Leadership training hike

Beach

Safari

Dinner out at a restaurant with clients

Luxury weekend at the spa

Yoga retreat

Remember the obvious too. Like sleepwear.
This list of UX's and lists of what you'll need for each of those, forms the basis for your packing list.
3# Shop on time and online
If there are things on your list that you don't already have and need to buy, make sure that you shop on time! Shopping online helps you to have a good overview of what you are putting in your shopping cart. Not to mention the bonus that you skip the lines, parking costs, and hassle of dragging your shopping bags around.
When you order online, make sure you check the delivery times, so that you receive all items well before your trip.
4# Get the laundry done. Now.
There is nothing worse than being ready to pack for your trip (well... so you thought) and finding a pile of wash to do... dry... fold and iron before you can pack. 
Avoid the stress and hassle and get your laundry done early. Put aside the outfits you want to wear, so that they are clean and pressed in the closet, at least the day before you leave.
This makes the packing process easy because everything in your wardrobe and home is easy to find and in it's place.
I like to take my key pieces to the dry cleaner, before my trip, so that the pressed items are packed on hangers in zippered suit bags.
5# Focus and Time Management
When it's time to pack, you need to be focused. Block the time you need as a meeting for yourself, in your agenda to pack. Set a "packing meeting" for yourself.
6# Overview is Key
The list and packing your items on the list are separate steps. When you "attend" your own packing meeting, you are at the step of actual packing.
Here is how to do it:
Lay out the items on your list, and spread them out on the surface
Check-off each item on the list. This is to make sure you've got it all.
Once you have everything, check off your list, you're ready to start packing your bags!
Pro Tip:  If you have a double set of items that you always travel with, or only use when traveling, keep your back packed for the next trip. You can keep you running checklist in this bag. This saves time and helps you avoid forgetting things.
#7 Pack in travel compartments
It's such a drag when you arrive at your destination, and have to spend your time in the hotel room organizing your things, instead of on the beach or at your meetings.
Keep the overview and organization on the go, by using travel organizer bags for your suitcase.
This starts by packing travel compartments. I pack my travel compartments according to my UX, like this:
Bag 1: Toiletries – Basic: for plane (i.e. toothbrush, toner, lip gloss)
Bag 2: Toiletries – Complete: for destination (i.e. straightener*, hair, face and skin -care)
Bag 3: Toiletries – Makeup: For fast and flawless face and skin looks on the go on the go, you need to keep the overview. This is easy when you pack using a clear transparent or fold out drawstring make-up bag.
4, 5, 6…: As Per UX and outfits. To explain, let's use 2 examples: one for career and one for lifestyle:
Lifestyle: Let's say that one of your UX is to go to the beach. Pack everything you need into one bag for the beach (bikini, hammam towel, sandals, sunglasses, sunscreen).
Career: If it's a meeting with your client in Milan as your UX, Pack by outfit per bag.
Bag 6 / 7: Pack your office in a bag / Fun and games entertainment bag:
Bag 6 | Career: Notebook, notepads, Mini-stapler, pen and sticky-notes.




I usually keep this in carry on because I work in the plane. Do: Always keep your laptop with you or in your room safe, if you're not using it.
Bag 7 | Lifestyle: Books (yes we still love and read the offline ones!), playing cards, inflatable pool stuff like our cute ice cream floats!
Bag 8: Last, but definitely not least: Shoes! I know I said to pack by outfit, but you can adjust an outfit with the most impact, using your shoes. That's why you keep them all together. Use them and combine with your outfits to:
This is a tried and tested method that should work great for you. You will find your own perfect signature way that is best for you and works perfectly, as you go.
Pro Tip: Buy refillable travel size bottles to fill with your skin and beauty products, if you travel often. This saves space and means you can still have your trusted beauty regime abroad.
8# Avoid last minute additions
If you're like me, you get more excited (read anxious as well) about your trip as it nears. A common coping mechanism is to add more things to your bags after they have been packed. Your reasoning being, "maybe I'll need that / extra." Once your bags are packed, you don't have an overview anymore, so unless it's your noise cancelling earphones or toothbrush that you forgot, you probably won't need, "just one more thing."
Trust that you have everything that you need, and if you need "just one more" of this or that, chances are that you can buy it there.
9# Organization at your destination
When you arrive at your destination, just place the bags in the rooms that you'll use them. Clothing bags in closet,
With the exception of hanging your clothes, don't un-pack the bags. Just un-ack as you use the items. They are already packed according to UX and outfit, so everything is easy to find. You'll also spend less time re-packing, if you don't unpack what you don't use.
10# Keep the overview abroad
During your stay, sort your laundry into separate soft drawstring bags according to your washing loads. 
So the goal is…
The goal is really to enjoy your trip and keep it simple. Follow these easy steps and you will arrive at your destination stress-free and well-prepared. Once you arrive, be present, calm and keep things simple. There are the key ingredients to master the art of elegant, easy travel, making it fun and a successful trip. Bon voyage!