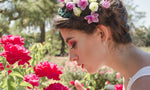 If you've ever heard of the Danish word hygge, you'll know that it's often associated with winter. The word itself doesn't have a direct translation because it's about an atmosphere, a feeling that makes us feel safe and at ease, according to Meik Wiking, author of The Little Book of Hygge: The Danish Way to Live Well.
But did you know that you can also experience hygge all year round? 
Here are 5 ways you can add hygge to your life this spring:
#1 Experience the great outdoors
Hygge is not just about curling up with a pair of cozy socks and a warm drink by the fire. It's also about togetherness, simplicity and living in the present moment. There's no better way to experience this than by spending time outside. April is the perfect time to garden or bring some fresh bulbs into your home.
Despite the rain and cool air, spring can also be a good time to camp, canoe or hike. Meik Wiking calls hiking the "Easter egg of hygge as it includes slowness, rusticity and togetherness." 
#2 Bake for family and friends 
Hygge is very much about enjoying other people's company, so why not bake some delicious, comforting foods and share them with others? Host a get-together or gift baked goods to your neighbours and co-workers. It will feel good to do something for others. It will be good for you too, since baking is such a mindful, relaxing activity.
#3 Declutter and organize your space  
Nothing ruins a hygge mood faster than mess and clutter. Spring is the perfect time to reset with a blank slate. Go through your clothes, papers and anything else that needs to be organized.
Professor Sabine Kastner says that distractions in our environment (such as clutter) impair our ability to function. So it's worth it to take some time to clear your space of clutter. This way you'll be more productive, less stressed and more focused. 
Read "5 Quick Ways to Start Decluttering Today" for some ideas on how to declutter. 
#4 Decorate with candles, fairy lights and new spring decor 
Who said that candles and fairy lights were strictly for winter? A set of fairy lights on an outdoor patio can really set the mood and create a cozy, warm atmosphere. The same can be said of a nicely-set table, complete with flowers and candles.
Or a living room, accented with a new throw and pillows. Small touches can revitalize your space and brighten it up for spring, reminding you that the cold, dreary days of winter will soon pass. 
#5 Have a picnic or dine al fresco 
With the melting snow and rising temperatures, you're bound to get at least a few beautiful spring days. Instead of dining inside, sit outside and enjoy your meal as you get some vitamin D. Or gather a few friends or family members together for a picnic in the park. Hygge is all about enjoying the simple things in life: good conversation, good food and good weather. It's also about being thankful and present for the simple things. 
Do you want more tips on how to live your best life and reach your full potential? Check out our 5-day VIGOR challenge!