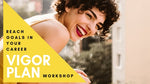 Learn goal-getting in 5 steps
Want to turn your dreams to reality? Use our 5-step plan! Join our workshop, learn this powerful planning-tool. Discover more about yourself, get tools and resources. Meet like-minded women too while you - achieve your personal next step together! Discover more about this...
Get Tickets
Step-by-step towards your #lifegoals
Platform and event series for women over 30, who don't have it all together. We'll help you identify and work towards your #lifegoals.
Take control of your life. Prepare for What's Next!
Start Saturday morning freash September, 28, 2019 in Rotterdam: Join us at our VIGOR Plan Workshop and Networking Event. Learn more about yourself while you get tools, resources, and inspiring speakers.
Date: Saturday 28 September, 2019
Time: 11:00 - 14:00
Place: Groothandelsgebouw 4th Floor, Stationsplein 45 (unitA4.194)
Price: 55 euro
Food: Yes! Delicious bites from participating local restaurants and cafés.
Meet like-minded women to join forces with so you can - reach your next step together.
Buy Tickets Now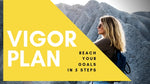 Testimonials
"Once I opened the package (which was stylishly wrapped) I realized now I really have to do something about my fitgirl goals! Thank you."

- Michelle S., The Hague

"I got the Dior lipstick as a gift! My lips are dry a lot, so the creamy colour is good for me! I try to do matte/all day stay ones, but not good when my lips are dry 😬 lol! So the Dior one is good, just put it on, light colour (and not a colour stay) means no mirror needed!"

- Leigha P., Kuala Lumpur

"My necklace arrived! It's beautiful. Nice and long. Love the earrings as well. The wrapping is so nice, by the way! It's gift to myself."

- Ingrid van W, Utrecht

"I got two perfumes from Rituals that were in the personal branding article, as a gift for my sister-in-law. She really likes them and I shared all the tips on how to mist the perfume for the "office etiquette. 😌"

- Laura T., The Hague

"The reads are gold. Keep it up!"

- David A., Toronto

"Love the practical tips & the articles. Thoughtful information on many daily aspects of work and life! For shopping, nice jewelry and other products, they always make me very greedy! :)"

- Merel S., Leiden

"So many useful tips and tricks for creating the life you want to live. I like that there's even products, like stationary and clothes that will help you achieve it. The articles are thoughtful and have aesthetic pictures that make them fun to read!"

- Jesse W., Ottawa

"The marble necklace is super cool. I really like the gold earrings. They go with everything, so I'm wearing them all the time. Loved the wrapping by the way."

- Mel R., Gouda