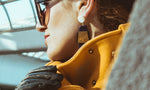 Edited by: Eve & Elle
According to Catalyst, women hold only 24 CEO positions of S&P 500 companies. William Arruda, in his Forbes article "How LinkedIn Helps Women Shatter the Glass Ceiling", explains how LinkedIn could be just what women need to reach the top.
But no matter where you are in your career-- making a major career move or aiming for a management position--LinkedIn is a valuable part of your personal brand and you should be using it to your advantage.
Here's how:
#1 Connect with leaders in your field
LinkedIn has a few features that make connecting easier. There are InMails if you have LinkedIn Premium (which is a paid subscription plan) or messages if you use the free account. No matter which plans you choose, both allow you to send personalized messages to people. If you have a mutual contact in common with the person you want to connect with, you can ask for an introduction.
This is a great opportunity to set up informational interviews and pick someone's brain over coffee or lunch. It's also a great opportunity to learn about someone else's journey to the top.
Do make meaningful connections. Role-models and leaders are everyday people too. If you don't know someone and want to connect, a message to them about why you want to connect goes a long way.
It's not about the number of connections you have, it is about the quality and relevance of your circles.
A key note to climb in search rankings - customize your URL and add personalized links to your other social streams. Remember to focus. Make sure to keep the information on-point, and true to who you really are - what you value, what you are good at and what are interested in.
#2 Engage in groups and become more visible
Being a part of LinkedIn groups is important. It's a good way to increase your visibility and offer your unique insight. There are tons of communities on LinkedIn, each one with something to offer everybody. Joining these groups and engaging on them is not only a good way to network but a good way to build up a knowledge of your industry too.
A key note on being visible - make sure that you have a complete and well-thought-out profile. Now that you are going to be noticed, it's important that what you put out there is quality. People who look you up should get a concise clear picture, not only of who you are but also of what you can do for them within your area of expertise.  
#3 Publish articles and become a thought leader
When you publish articles about yourself or your company on LinkedIn, you highlight your skills, you establish your credibility as a thought leader in your field and you increase the chances of reaching a bigger audience. In your articles, you can talk about innovations or product announcements in your organization, share your professional experiences or offer valuable advice to other people. And when any one of your connections likes, comments or shares your article, people in their network see it.
#4 Uncover the hidden job market
It's said that most jobs aren't advertised; they're found through networking. LinkedIn gives you access to influential people and people with connections.
The oldest form of advertising is word-of-mouth and if you're a credible, skilled person, other people will pass on this information, especially if you show your interest in learning more and connecting with others. Do maximize your chances by being specific and authentic about your personal brand. This helps you find connections with the most potential and best fit because you lay the groundwork for them on the potential role you could play in their network and make it easier for them to decide and filter if you are a good fit.
Even if the person you reach out is unable to meet with you, often they will refer you to one of their colleagues or friends for an informational interview or connection with a better fit with you.
The great thing about informational interviews is that they can snowball, as you meet more and more people through new contacts - as you refine and refresh your network continuously.
A key note on networking and feed - build a feed that is relevant and keeps you up-to-date. Refresh it regularly following and unfollowing influencers and people in the areas that are most relevant to you. When you present your unique value clearly on LinkedIn, people are more likely to connect with you, but go beyond that as well and consider working with you.
The Bottom Line is: Know who you are. This is one of the biggest mistakes people make - not taking the time to discover who they really are and where they want to go. So, step one is to get organized on your brand. Not sure on who you really are? Read up on this first: personal branding. Then it's time to optimize your personal brand with powerful tools.
LinkedIn is a great tool that should not be overlooked. Being an active part of the LinkedIn community will expand your network, establish your credibility, showcase your abilities and open up a world of possibilities.
Do you regularly use LinkedIn? If so, how? Do you have any tips for using it in a strategic way?