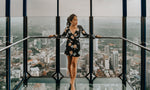 A year ago, Netwerk in de zorg opened its doors in Rotterdam and since then they have been achieving their own goals successfully, as well as their financial targets and are already a profitable business! What takes others years to do, they are doing right now.
If anyone demonstrates the philosophy behind VIGOR by Eve & Elle, it is defintely this successful start-up. So what does it take to reach a big goal like beginning a start-up?
These are the top 5 start-up tips from the interview with goal-getter entrepreneurs Marit and Manouk, who are living their dreams right now:
#1 Have financial goals and sales targets

Just starting a business is easy, but making it profitable is what makes it a business. If you don't set financial goals you have nothing specific to reach. Get prepared and set your financial goals.
#2 Be aligned with your partners
Align your goals, timelines, vacation plans, targets, roles and everything else you can possibly think of with your business partner, and inform your partner at home too!
#3 Be honest and open
If you are doing business closely with other people, they will know as soon as something is up. Make sure to tell them honestly and openly what's going on in your life and your head! This helps to manage expectations, so you can deal with anything that comes your way together.
#4 Get role models involved
Talk to role models about your plans to start your own business. Ask for their advice and help wherever they can support you.
#5 Don't waste time
When starting out, time is a really important resource. Don't waste it. Especially with things like worrying. If you have a good plan and work hard; it will work out.
About the goal-getter duo behind Netwerk in de zorg
Marit and Manouk are the goal-getter duo behind Netwerk in de zorg. They are role model entrepreneurs, but they are also two every women who have a strong friendship and great work ethic that set out to achieve their career goals to set up a business together.
They are both very approachable and love to share with others. They know how to work hard, but also how to celebrate wins. Which is what made them so fascinating and fun to interview.
Reach your goals
We love to see people reach their goals at Eve & Elle. That's the reason behind the workshops we offer - How to reach your goal with VIGOR. Each workshop takes you through the 5 steps you need to achieve your goal.
So if you are like Marit and Manouk then you are ready to take YOUR next step. Ready to reach your personal, career or financial goals? Read on...
Eve & Elle's Workshops
If you want it all, you need a plan. This workshop helps you set and reach your goal. You see yourself going places. So do we! So what do you do about those goals? Here is your answer: Do a workshop this September.
Worshop Details
We teach you our number one tool to achieve your biggest goal.
To help you reach your goals, we offer a 5 step workshop that guides you through the accelerated process of setting and achieving your goals. With the workshops, you are taking active steps in achieving your goals.
Join us for the workshop where you learn and use the 5 steps to develop your personal strategy.
Live your goals. Get VIGOR by Eve & Elle.
Date: Saturday, 28 September 2019
Location: Stationplein 45, (unit A4.194) 3013 AK Rotterdam

Beside Rotterdam Central Station
4th floor of the Groothandelsgebouw building (Across from CIC)


Program:
11:00-13:00 VIGOR 5 step workshop
13:00-13:30 Role-model speakers
13:30-14:00 Lunch with like-minded women and mentors


What's included:
Guidance through the 5-step plan
Important tips and insights from guest speakers
VIGOR by Eve & Elle Notebook, Exclusively available because you attend
Tools and materials that you will need during the workshop
Coffee & Tea
A light assortment of delicious local organic refreshments


What you'll learn:
Which goal to pursue
Why this is important to you
How to do this
What your personal plan is
Who is going to help you
What is your next step in achieveing your goal


What topics are covered:
Here are some things covered in the VIGOR Plan Workshop Series:
How to get your goal happening
How to prepare for a career move
Inspiring role-models from a CEO, career-changer and an entrepreneurial perspective tell you how they use the plan to change their game.
Create your personal strategy
Meet like-minded women to join forces with!
Learn to use the VIGOR method to understand why you make certain choices and to guide you towards your goals
Want to feel like you are finally doing something about that big goal? This is the workshop for you!
VIGOR Plan is designed especially for people with a busy rich life just like yours! It's time to do something about that goal of yours... it's time to do the workshop.
Reach your goals with Eve & Elle.
More great reads at Eve & Elle...
5 Things a Millionare Mindset Taught Me... with printable quotes. Read it here
Are you ready to do nothing? Read more on detoxing your life here
These are 3 important things to do before you are 35: Read more on making space in your life here
Minimalism: The New Lifestyle That Helps You Save Read more on minimalism and saving here