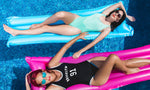 Your 20's are for trying, learning and discovering who you are what you are about. You're 30's are about defining yourself, becoming your own unique person, knowing what your values are and the start of working toward your bigger life goals.
1# Clothes, Shoes, Bags
Now is the time to start your unique collection. Invest a bit more than you would usually do in clothes, shoes and bags. Create a wardrobe capsule for yourself with unique and great pieces of quality. Make sure the items are durable and are able to go on for years. By choosing statement pieces that say a lot about yourself, you will be wearing yourself on the outside. I invested in a great jacket, a red work dress, some Jimmy Choo's (just looking at them makes me happy- and yes I paid for them myself) and other things that I feel comfortable wearing any day of the week. I have a great work bag, Go Out bag and travel bag. And if you ever have a kid, i use my designer bag as a diaper bag. No need to start walking around with a huge bulky bag if that is not your style. All you need is a bag organizer.
2# Accessories
Now it's time to invest in some statement jewelry. The kind of jewelry that you pay a bit more money for, but you can rest assure, that if you want to sell it in a few years time, it has increased in value or at least stayed the same. Also in your 30's your eye for quality has changed and you'll appreciate a beautiful statement necklace that you paid for all by yourself so much more. Instead of buying 100 cheaper accessories invest in 5 or 6 pieces that you can wear for the next 10 years. I have a some great earrings, a very nice statement necklace that goes a long way and some great bracelets.
3# Your signature drink
Not really necessary but nice to have. Do a wine tasting, try some dark rum or a cocktail. Discover your most loved soda and take note. It's great to have drinks that match your personality, that will give you a happiness moment when drinking them. For me my favorite wine would be a really thick, buttery Chardonnay and I love discovering new Chardonnays. My go-to cocktail for a social night is Gin-Tonic and with it, it's 100 variations. For a crazy night on the town or get drunk and dirty with the husband I'd go straight for a Dirty Martini, but just with Gin..no Wodka. I love a dark rum called The Kraken and my happiness coffee is a Latte Macchiato from fresh ground beans.
4# Yourself
It feels like studying for something is a lifetime away, but it is important to keep that brain working. Learn a new language, read books, or search for nice online courses to enroll in. Or if you feel a little lost in the road towards your goals find a coach to talk about it. Most important, keep developing yourself and have fun doing it! For me that meant reading a ton of books and also doing an MBA and a painting course where I could watch naked men. But my main goal of course was to learn how to be a better painter.
What are the things you invest in and do you feel there are things missing? Let us know in the comments.