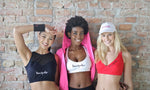 Why not create your own at-home fitness gym. You are probably super motivated to get to the gym. Or not so much...You have your bag packed, your workout ready, only it's so hard to get an hour in, when things like gym opening hours and a very busy, sometimes unpredictable schedule keep you from getting there.
Why not create your own at-home fitness gym, designed to suit exactly your needs in the space you have, right now?
Here is a simple step-by-step guide to setting up your own at-home gym.
Select your space. Create your space.
Working out starts with giving yourself space. We've divided this into 3 key areas, that we explain in detail:
Physical
Focus
Time
Physical
First of all, make some space that you can commit to your workouts. If you live in a very small living space, make it a space that you can convert in under 5 minutes.
You don't need much room, as most work outs, require a minimum space of 1.5 meters by 2 meters. Anything more is nice to have.
Focus
Create space for yourself in terms of focus. Communicate to those you live with that they can help motivate you by giving you your space. Let them know that when you are working out in that space, you need your full focus and concentration, so to please not disturb you.
Time
Give yourself the time to work out. Plan it out and prioritize it in your schedule. Create space for yourself in terms of focus. Time yourself the first few times you do your workout and figure out the total amount of time it takes you. Including prep, tidy-up, and showering. Factor this into your schedule, and schedule in this essential time for yourself.
Prepare your space
Make your space ready for your workout. A good fitness regime doesn't require a lot of equipment. Here are the basics for a resistance and cardio workout with warming up and cooling down or yoga;
Skipping rope
Resistance Bands
Yoga mat
Adjustable weights
Add a full-length mirror, to your workout area. This has two essential benefits, as it:
Allows you to check your form while you're working out
Gives your space added dimensions, making it look more light and spacious
Make it yours
Get fit with the right fit, for you and your lifestyle. A cluttered, distracting, boring space won't give you the inspiration you need.
It's essential that your space is:
Inviting
Motivational
Personal
Inviting
Make sure that you keep your space fresh and inspiring – so that you want to work out.
Have equipment in a nice colour scheme, have your yoga mat and workout towels ready close-by to use and colour coordinate them with your space. Add an energizing colour to the wall or an inspirational poster.
Personal
Personalize your space so that it fits your experience. Make a spot for your water bottle, phone and training schedule. A play list of songs that you love, is a great way to get your heart rate going. Make speakers available, so that you can just 'plug and play', during working out sessions.
Whether you are old school or new school, using a printed out on paper fitness schedule and log book, a workout video, or even a personal trainer that comes to your house, include these aspects with a spot to fit into your space.
Motivational
Two of our favourite ways to keep motivated are – an achievement wall and an achievement journal.
An achievement wall, is a place where you post goals that you've accomplished and / or a burn down chart for your goals.
An achievement journal, is a book or journal, in which you write down what you've accomplished and how it's positively affected other areas of your life.
Consistently keeping these up is another great way to get in and stay the flow.
Getting there step-by-step
Do you have a personal fitness goal? Tell us about it! Share your thoughts in the comments section below. We are just as much inspired by you, as you are by Eve & Elle.