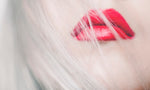 You speak volumes every day. This can leave your lips chapped and tired, leaving them prone to nervous habits like picking at the dry skin or rubbing your lips. Making sure that your lips are well taken care of is a key step in every day essential up-keep.
These are packed full of lick-your lips delicious ingredients that smell good and taste amazing.
Here are two homemade DIY recipes that will leave your lips silky smooth and ready to talk all day, getting the job done, and even happy to share a soft kiss or two with your cute hubby in the evening.
Good for: All skin types. Tired cracked lips and well-maintained lips too!
Why is this so good for your lips:
The Sugar works as a gentle exfoliant to gently remove all of the dead skin cells from your lips, leaving behind soft silky supple skin.
Lemon has antioxidant properties and is thus beneficial for your skin. Besides being a delicious fruit and one of our favorite smoothie ingredients, it is full of vitamin C revitalizing for you – inside and out.
Vitamin E oil is a nutrient and antioxidant. It works as a moisturizer, has anti-aging benefits and is a well-known 'universal cleaner' for the skin
Lavender essential oil is calming, balancing and stress reducing. It has antioxidant and antimicrobial properties that make it a great skin healer.
Step 1: Lemon Lip Scrub
Get your lips soft and kissable. Using a homemade lip scrub is the perfect way to exfoliate your lips and keep them hydrated. It also helps to keep your lipstick on and even.
This also makes a great gift by itself or packaged with a fun lipstick color.
Ingredients:
½ Cup Brown Sugar
¼ Cup Organic Coconut Oil
5 Drops Lemon Essential Oil
1 Lemon
Kitchen Utensils:
Bowl
Spoon
Measuring spoons
Zester / Grater
Juicer
Pot or Microwavable glass measuring cup
Pots or jars to store the yummy lip products you've made!
To make your own DIY lip balm sticks:
Empty and clean lip stick applicators
Rolling pin
Kitchen knife
Wax paper or parchment paper
How to Make:
Zest and juice the lemon
Melt the coconut oil in the pot on the very lowest heat. As soon as it's melted remove from heat. Do not let it boil.
Mix all the ingredients together in a bowl
Enjoy!
How to Use:
Apply the lemon scrub to your lips using clean finger tips. Rub your lips gently in tiny circular motions. Then wipe off the scrub. You could also lick it off if you want. It's very fragrant and delicious.
Step 2: Moister-lock natural lip gloss
Now that your lips are prepped, using the scrub, it's time to lock-in that freshly exfoliated revitalized skin, using the moisture-lock lip gloss.
Ingredients:
4 tablespoons coconut oil
2 teaspoons honey
2 teaspoons cocoa butter
1/4 teaspoon vitamin E oil
10 drops chamomile essential oils
5 drops lemon essential oils
3 drops lavender essential oils
1 drop peppermint essential oils
How to Make:
Melt the coconut oil in the pot on the very lowest heat. As soon as it's melted remove from heat. Do not let it boil.
Add Cocoat butter and hand mix or blend with whisk-attachment. Whip until creamy and light.
Drizzle in the rest of the ingredients. Blend together gently.
Enjoy!
Spoon your butter into glass jars or containers to keep
Lipsticks Instructions:
Place the parchment paper or wax paper on a clean surface, like a counter top or table.
Roll out the mix on the paper to about 1 cm
Slice into pieces 1 cm wide x 3 cm long
Using your hands roll the slices into sticks
Place on your empty lipstick applicators
Voila! Your DIY lip balm is ready for use!
How to Use:
Apply the lip balm to your lips using clean finger tips or the lip balm stick applicator that you just made, for on-the go easy use! Rub the lip balm back and forth from one corner of your lips to the other, rub your lips together and pat them gently with your fingers.
This two-step DIY recipe and treatment is easy to make and sure to make your lips look and feel great.
So the goal is...beautiful lips :-)
Note: You are responsible for your own health and well being. Make sure that you select materials that are completely safe for contact with the skin. If anything comes into contact with your eyes rinse thoroughly with water. If any irregularity or rash arises, discontinue use and consult your healthcare practitioner. Eve & Elle and / or it's affiliates are not responsible for the results of making and using self-made products.