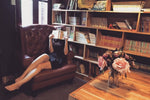 "Habits are a very important part of reaching or not reaching your goals.'
One of the most famous books on habits is: The 7 effective habits of highly effective people by Stephen Covey. But there are much more books that can help you understand more about the psychology behind habits, and how to create and change them. Personally I love reading on my e-reader. It gives me the freedom to create a reading wish list or to immediately buy books I find very interesting.
#1 Making Habits, Breaking Habits
Using the If This, Then That method this book will open your eyes on human psychology and why it is so hard to create or stick to new habits. Read it now.
#2 The Power of Habit
Explains the habit-loop (cue, routine, reward) and how to change or create habits. This book will also show how companies and society use our habits to profit of of them. It will definitely inspire you and gets you to understand habits at a deeper level. Read it now.
#3 Sticky Habits
If you are that person that doesn't know how to stick to a new habit or goal, than this book is for you. The book also has a worksheet and report to help you understand your own habits and how to change them into something positive. Read it now.
#4 Essential Zen Habits
This book takes the mindfulness approach to learn more about your own behavior. It also includes a six week plan for you to work on. Read it now.
Can't get enough of books that will help you reach your goals? Check out these recommendations. 
So the goals is...
The goal is to create habits that will help you achieve your goals.
Have you read any of these books or are you about to? Please let us know what your thoughts are. Or have you read any other book that you would like to recommend?