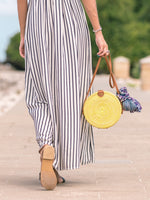 My new morning routine is perfect for me. It gets me up and out of the door with more energy than ever before. By adding some simple tricks to my morning routine, I start my day refreshed, energized and productive.
1. Wake up with the sun
The best way to wake up is with the sun in your face. However if you are like me and you live in a country dominated by grey skies, the next best thing is a wake up light. The wake up light is like an alarm clock and gradually turns lighter until the moment you have to wake up. By imitating the sunrise, turning from a deep orange to bright morning yellow, your body naturally wakes up. Ready for the day ahead.
2. Get up early and read
By getting up a bit earlier than you have to, even if its just by 10 minutes, leaves you some time to read. And with that I mean really read a book, or an article or anything that is not social media. Maybe fresh up on a new article that concerns your work or read a few pages in an inspiring book. It will give you some down time after waking up, before having to run out of bed and out of the door
3. Shower and sing
The shower is the one place where you can completely let yourself go and sing aloud. Singing creates endorphins, those hormones that make you feel happy. Above that you'll feel secure in your warm shower and your voice will sound different than in normal life outside of the damp area of your bathroom. Next to the singing, indulge in a great shower foam and lather yourself every morning as a luxurious start of your day. According to Spotify, in 2015 the song most listened (and probably sang) under the shower was Wham "Wake me up before you go-go". 
4.Eat and Drink Something
Make the breakfast of your dreams so you have something to look forward to. Take the time to eat and drink something before heading out of the door. I always love to have a cup of warm water with lemon. It really gets me ready for the rest of my day.
So the goal is...
 So wake up with the sun, take some time to relax before starting the day and then get re energized with a great song in the shower and you are good to go. What are your goals? Please share your thoughts in the comments section below as we are just as much inspired by you as you are by Eve & Elle.