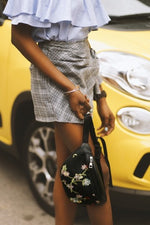 | Eve & Elle Olivia & Morgan
Chances are you do your best to keep a healthy lifestyle everyday. When you're out of your regular routine, it's hard to take your healthy habits with you, especially in situations like business travel.
Spending extra time in vehicles (cars, planes, trains, buses) requires extra focus on your health goals.
Here are 5 ways to stay healthy and fit, to keep you on top of things during your business travel
1# Plan and Prepare before travel
Before you leave for your trip, or on the plane, schedule dates with yourself, around your business meetings, to make sure that you work out, and eat throughout the day.
Factoring in time in your schedule to eat right and be healthy, you prioritize them. By setting the goals and planning them out you're taking these activities seriously, increasing the likelihood of achieving your goals!
2# Make healthy & fit routines
Once you arrive at your destination, it's easy to get into a routine. You will need to build health ones to be active and eat healthily throughout the day that fit your limited schedule.
Plan in just 1.5 hours the 3 parts most important parts of healthy & fit time every day:
Fit 20-30 mins (minimum) to exercise in a way of your choice
Food 20 minutes (minimum) to eat healthy meals, taking time to digest
De-stress 30 minutes (minimum) to decompress and relax (whether it's meditation, a few yoga poses, or to lie on the hotel bed with your feet up listening to a soothing Spotify playlist
Essential to your routine is good sleep. Get your 8 hours of sleep each night and more if you can and need it. This is key to help you to optimize your energy and efficiency during the day.
3# Pack healthily
Now that you know what activities you'll be doing, pack accordingly. Here is what you'll need for fitness and food health:
Workout outfit: Choose one that packs up small and easily. Bring light extra layers if the climate of your destination requires.
Running shoes: Take your lightest and most compact pair
Water bottle: Make sure that the millilitres are marked so that you can keep track of and keep up your water intake
Food containers: Be inspired by Japanese business women, who take their lunches in beautiful silk scarves, and pack a few, or try these eco lunch bags that we love. This cuts down on plastic and helps you with portion control.
4# Fit & Healthy at every step: Be fit on the go
Even with time constraints, you can fit in fitness and exercise into even the busiest schedule. Here's how:
Hotel Gym: Start the morning right, with a visit to the hotel gym. Even 20-30 minutes is beneficial and fits into every schedule.
Do stairs: No gym at the hotel? Take the stairs, before leaving for your appointments and take the stairs when you get there too. If you're concerned about what other people might think, just explain to them how you believe in the importance of a healthy lifestyle
Park to take a walk: If you can, park farther away from your appointment and use the stairs in those buildings as well.
5# Eat healthily on the go:
Get the hotel to prepare a healthy lunch bag for you, that you can take with you, on your way out. Make sure that it includes:
Seasonal Produce
Fresh and locally grown food keeps your energy levels up, while you're on the road. Vegetables and fruit are packed with fiber, vitamins and minerals; exactly what your body needs to function properly. Depending on where you're doing business, you can experiment with exotic fruits and vegetables that you can't find back home.
No processed food
Food that is changed from its original form usually has a lot of empty calories and unhealthy ingredients. Steer clear of it.
Nuts, dried berries and seeds
These don't take up much space and weight in your bag. They are packed with antioxidants, vitamins and fiber. They help you feel full for longer and chia seeds for example (the staple of the Mayan diet) help digestion while your trying new foods while abroad.
6# Are you really still hungry or is it just sitting in front of you? Portion control
This is an important way to stay healthy. Eating small portions throughout the day helps to keep you sated and keeps your metabolism active at the same time. The packed snacks are a great way to make sure you're getting the right amounts of foods to keep you energized.
Also, even when you're busy, tired and on the go it's important to be conscious of what you're eating and how much or little of it. What is served on your plate, is not necessarily the portion that is right for you. Remember to listen to your body and exercise portion control, prioritizing healthy choices.
7# Keep hydrated
Drinking water during your travels is the most important thing you can do to keep yourself healthy while traveling.
Use your own water bottle (with the millilitres marked). By being aware of how much water you drink throughout the day you can reach your intake goals.
Water has many benefits because it:
Reduces water retention and swelling due to (plane) travel
Flushes out toxins
Curves cravings as it regulates your appetite, helping you make healthy choices
Keeps your mind clear. Crucial for your business meetings and goals
Fights dehydration, which is the cause of many of the most common problems that travelers face, like:

Fatigue
Headaches
Mood swings
Low energy
The average advised amount is 2-3 liters a day while traveling.
By giving your body a balanced mix of healthy foods and plenty of water, you can help ensure that you are feeling good wherever your travels may take you.
Getting there Step-by-step
By turning these into goals, you're actively taking steps toward achieving them. This increases the likelihood of them happening.
How do you stay healthy and fit while you're on the go? Share your thoughts in the comments section below. We are just as much inspired by you, as you are by Eve & Elle.