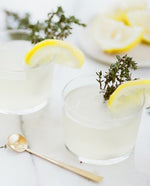 Whenever I read articles or watch Youtube videos on a healthy lifestyle, it almost always involves lemons in hot water, so I decided to do some research to see why everyone is such a fan of this bright yellow fruit. And with all the benefits I found, I can also declare myself a huge lemonfan. 
1# It's an energy booster
Lemon water will give you an energy boost, and who doesn't want an energy booster in the morning. Lauren Conrad says after she started drinking lemon water every day she feels more energized than ever. Healthline, The Edison Institute of Nutrition and BBC Good Food, all agree that there are health benefts to drinking water with lemon. 
2# It rejuvenates skin and body
The drink that you can easily make and drink hot or cold has a big following among models, due to the rejuvenating benefits for skin and body. Next to doing yoga everything in great outfits, Behati Prinsloo states it makes her feel good when starting the day this way, and also Gisele Bundchen swears by starting her day with a cup of lukewarm lemon water. And I really love using this lemon squeezer, it doesn't make a mess, is small and easy to use on a every day basis.
3# It's full of vitamin C and helps the digestive system.
As a morning routine Jennifer Aniston always drinks hot water with a lemon slice before starting her day. Because lemons are loaded with vitamin C and they help the digestive system, this is a good way of starting your (early) mornings, setting you up for a great day. BBC Good Food, states that it is mostly the zest and pith, that contain the most antioxidants. So make sure to throw that in your glass as well. 
4# Beyonce does it
And last but certainly not least. Beyonce does it too. And if you are not a fan of warm water with lemon in the morning, then just squeeze a bit of lemon on your dinner. The Love & Lemons Cookbook, has some great lemon-y recipes.
So the goal is...
Whatever your style of eating is, it's important to get enough nutrients and hydrate. So the goal is to get all the vitamins and minerals you need with pure, fresh, healthy beverages, foods and snacks.
Are you a lemon fan? Do you swear by ginger as well? What do you start your day with? We would love to hear your thoughts are we are just as inspired by you as you are by Eve & Elle.