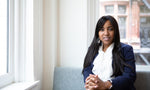 | Eve & Elle Olivia & Morgan
Your time is precious and you want to spend it doing the things that matter to you.
Being the boss involves looking the part, and as an executive you need to look clean, polished and presentable, always.
Here is how to make both work, with a make-up master plan, to get you finished and to your meeting, in under five minutes. 
You'll look fresh and well put-together, ready to take on your tasks. When done right, this 3-minute make-up can even look like a professional has done your make-up.
#1 Professional Looking Make-up in 3 minutes – Tools and Prep:
Efficiency takes preparation. When you're organized from the start, you make your task fast and easy.
Start with the tools you'll need:
A mirror

A make-up bag (note above)

Powder Foundation

Blush Bronzer

Lip liner

Lipstick and / or Lip gloss

Brow powder

Brow pencil with brush *or just a brow brush if you already have full well-groomed even eyebrows

Eye shadow

Mascara

7 brushes:

Kabuki blush brush

Fanned blush brush

Brow brush

Eye shadow brushes:

Light colour

Dark colour

Liner tool
Toning Mist

Tissues (for mistakes and blotting lipstick)
Now you're ready.
Step 1: Base and Foundation
Apply foundation with sponge over your entire face and gently on your throat. Make sure to get the creases around and under your nose, with a pressing or tapping motion.
Step 2: Eyebrows
Brush and Make up the brow.
The key is balance. Your eyebrows define the expression of your face. You want to make sure that they set the tone for the balance.
With each stroke, start with the inner lower corner. Work from down to up, inside to outer corner or tip.

Brush your eyebrows with the brow brush

Apply the brow pencil gently. Make subtle lines as little strokes from bottom to top, then across your brow, in short curved lines, from the inner to the outer edge.
Step 3: Eyes
Make-up the eyes.
Using the eye shadow brush put your highlight colour over your lid and on the lower inner and outer corner, under your eyebrow, and beside the corner of your eye, near your nose. This opens up your eyes.

Using the other eye shadow brush, apply the darker colour along the brow bone, work from the outer edge inward.

Using the liner brush, Line the eye, in smooth strokes, create a narrow line from the inside corner (starting where your iris starts) to the outer edge.
Optional: Line your lower eye, from the outer edge of your iris, along the eyelash line, in a dabbing motion, with your brow colour, for a subtle look.
Step 4: Cheeks and Contour
Make up the cheeks and temples with blush and / or bronzer. You want a natural clean look, so this is not the time for extreme contouring.
Using the kabuki brush, sweep the bronzer blush along your cheek bone.

For a sun-kissed look, still using the kabuki brush, sweep the bronzer blush around the very outer edges of your face and in your temples – wherever the sun would naturally hit.

Using the fanned blush brush, dab the blush, and sweep it onto the apple of your cheeks and across above the cheek bone. Less is more, so keep the make-up as subtle as possible. You can always sweep on an extra layer, if it's barely there.

Complete the sun-kissed look, still using the fanned blush brush. Sweep the blush around the very outer edges of your face and in your temples, over where you put the bronzer and slightly inward – again, wherever the sun would naturally hit.
Step 5: Blend and Set
This is when you blend the make-up together and set it, so that it looks natural and stays on all day or evening.
Take the fanned blush brush and brush it back and forth quickly, on the surface of a fresh tissue, to remove the make-up from it.

Still using the fanned brush, dab it gently in your foundation. Blow off excess make-up. It's only supposed to be a very very light dusting.

Now, working from the top down and from the middle outward, sweep the brush across your face gently over each area 2-3 times.
This will remove excess powder, smooth out your lines, and give you a well-blended and more subtle over all look.
Step 6: Lips
The finishing touch is to make up the lips.
To start, make sure that your lips are smooth and clean. Use lip scrubs regularly to keep the skin exfoliated and hydrated.
Using the lip liner, draw a smooth line along each of the four edges of your lips – left right, top and bottom.

Apply the lipstick and / or Lip gloss
Step 7: The #1 Most Important Step - Check and smile!
This is the most important step. If you don't have the full 3 minutes of time, do this step only.
Look at your face from a distance, close up, check the left side, check the right side. Is everything just right? If not, correct it gently, using a fresh tissue.

Now, make eye contact and smile at yourself.
This is key because it has the biggest effect of all steps, as it elevates your mood and makes you grounded. It is proven that smiling at yourself everyday in the mirror boosts confidence and even helps you to focus.
Done. You're ready to go!
Getting there step-by-step
This 3-minute make-up plan will have you looking fresh and ready for your next step of the day.
What is your beauty regime? Share your thoughts in the comments section below. We are just as much inspired by you, as you are by Eve & Elle.