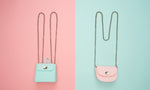 Bags, you either love them or hate them. I have many, many bags. But I also pretty good at recycling them. Every time I buy a new bag or purse, one needs to go. And from years of experience with work, travel and life in general I believe there are 4 types of bag every women needs to have.
#1 The small bag
The small bag is for coffee-meetings, short errands and dates. This bag will hold only your essentials. Keys, phone and money. Throw in a lipstick and you are ready to go. The pros of this bag are that you will never have to dig in to find something. You will never bring stuff you don't use and it looks a so pretty with everything. And as a bonus it will fit in any other bigger bag.
#2 The shoulder bag
This bag is  bigger and should hold up anything around the size of an A4 paper. That means notebooks, laptops, loose papers and everything else you try to shove in there (your heels, reusable water bottle, receipts, sandwich from yesterday). Therefore the perfect work bag. Classy, stylish and ready to go to work with you on a every day basis.
#3 The tote
This is the mother of all bags. My go to diaper bag. It's huge by any standards, fits everything from laptops to bottles and toys. Looks stylish and put together. But also has room for your work-out clothes, shoes and baby wipes. Whether you are running around like a headless chicken or a calm and collected person, this bag holds your life, when you need it the most.
#4 The backpack
Yes, the backpack is back. And ever since high school I have been weary of owning one. I always felt the only time to legitimately wear a backpack is on the slopes, or hiking. But fashion is a strange thing and the backpack is packing...everywhere. And it has grown on me. Not all backpacks. Eastpack I loved you in high school, but that 30 year warranty is wasted on me. 
Nowadays all the main brands are diving into the backpack craze, and I have yet to buy one...but I do occasionally borrow one from my husband.
Are there any bags you are missing in this list? Let us know!