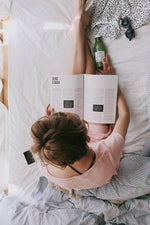 Once in awhile I plan a lazy afternoon. Me, Netflix and some popcorn. Though after so many Netflix shows, I feel I need to do something productive. Not too productive, but just enough to feel a little bit productive...but not too much.
So here are some of the things I like to do:
1# Clear Out Your Refrigerator
It is surprising, the things you can find in the back of your refrigerator. So take everything out, clean it and then put everything back that you have used in last 3 months. That means that that jar with pickles from 6 months ago can go in the trash.
Organize your fridge, while you out things back, so that you have a better overview.
2# Free your phone Storage
Declutter your phone. Free some storage space and throw away anything that you don't want or need anymore. Including those 3500 selfies you are not using anyway.
3# Read a book
Read a book that's on top of your list. Or research books that you would like to read and create a top 3.
Here is my top three for the start of summer:
4# Create a photo album
Go through your photos and create an amazing photo album that you'll want to keep for the rest of your life. You can go the traditional route by creating it in chronological order or design a funny album for instance you and animals, or copy Kim Kardashian and create your own Selfie album.
I like to use Washi Tape, to tape down the corners of my photos, for a fun and cute boho look.
5# Exercise
Find a funny workout on Youtube and exercise the afternoon away. Or go outside for a run or long walk. Whatever it is make sure to move your body, spirit and clear your mind.
I go to the gym, but I also have a gym at home. It's amazing what you can achieve with an excercise ball, weights and a yoga mat!
So get your lazy self to do something productive. You'll thank yourself afterwards.
So the goal is...
The goal is to have a lazy afternoon, with a little productivity that will make you feel great, relaxed and refreshed. 
What do you like to do on your lazy afternoons? Let us know in the comments.