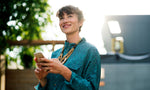 Do you have a power outfit? An outfit that makes you feel like you can take over the world? The one you pull out for difficult meetings, negotiations and big decisions.
We all need power outfits
Your power outfit will be your go-to piece of clothing that will give you an instant confidence boost. Many people face their demons when preparing for situations in which they would feel (slightly) uncomfortable. Clothing can help secure you in a way, that is different than any other preparation, training or late-night studying can do.
As Stephanie Trong wrote for Instyle: "I see a Céline blazer and dream about how it's going to hide my procrastination or sometimes inability to make decisions at work." Or Hannah Almassi for Who What Wear, who describes how power women "feel even stronger and fully prepped for the days, weeks and months ahead." It is important that a power outfit doesn't wear you, it should never overpower and most importantly never be uncomfortable. On ELLE.com, Dina Torkia describes the power outfit as a way of dressing. "It reflects my emotions, I feel in control of my day. Having that, as well as vocal expression, is what gives me my confidence."
Power Suits for work in 2018
For some a power outfit is a complete outfit, or a cute and practical blazer. But it can also entail some great high heels, or grounding flats to keep you grounded when making a big presentation. Or a big signature piece of jewelry to get you noticed the moment you walk thru the door. For me it's a good fitting jumpsuit, easy to pair with some heels, or change up with sneakers for a more sporty look. However and whatever your power outfit is, make sure that it is 100% you.
A great blazer that you can match with everything, and makes you look flawless instantly.
That perfect red dress, so you can be that lady in red.
And what better way to compliment a power outfit with a great pair of trousers that will make you feel like a million bucks.
What is your Power suit in 2018?


"I see a Céline blazer and dream about how it's going to hide my procrastination or sometimes inability to make decisions at work."