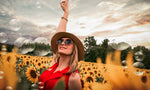 Starter funds are the foundation on which you will build your investment portfolio. As with any foundation, stability is key.
As mentioned in part 1 of this 2-part article. Becoming aware of your financial situation and investment portfolio is key. This will put you in control.
These 5 tips will add to the options and your knowledge. This can help you further build your strategy.
1# Start Small
The money that you invest should be money that you need to be open to losing. Investing your entire life savings, especially starting out is obviously not a good idea. Start with an amount for example, that you would spend on a vacation.
If you are just testing the waters, it's fine to start small and then reinvest part of the money that you make with your portfolio, over time.
2# Make a Plan
Often people think that financial planning is only about creating and managing an investment portfolio on the stock market. It is so much more than that.
Make a plan that also includes:
Income sources
Budgeting
Your bucket list or wish list, including quotes or estimates
Spending patterns
Raise Forecasts
Bonuses
Your house
Cash
Retirement Savings accounts
Savings accounts
Retirement goals
As well as any other debt, equity, assets and liabilities that you may have. Make sure that you have enough to do the things you really love, but plan to have money available to do the things you want later.
Is there money that you don't need right now, or in the next 5 years? 10 years?20 years? The money left over is what you invest.
3# Are you a Risk-taker?
What are you prepared to loose? Everything that you invest? That is what you need to be able to loose when you invest. If this idea seems daunting to you, think about how much you might spend on a shopping spree. Is it $ 500? Now think of that money making you more money, while you sleep, instead of hanging in your closet.
You need to be prepared to loose everything, but also to be patient and make money over time. Deciding on this will help you decide how offensively or defensively you set up your portfolio.
4# Make money over time
Is a Buy and Hold strategy right for you? If you choose to manage your own portfolio, a strategy that may suit you is going for the lowest-cost index funds representing major stocks and bonds globally.
If you look at the funds over time, often they will have beat the stock market, even through there  are highs and lows. One thing that you will need to remember with a buy and hold strategy is not to get nervous when stocks go up and down. Novices tend to panic when stocks go down, pulling out their money and selling at a loss, when if they had patiently waited, the value would have gone back
up. It's sort of a question of riding the wave. Selecting the right time to buy and to sell in the future. One of my favorite investing and business heroes of all time is Warren Buffet. His advice is:
"Buy the lowest-cost index funds representing the major stocks and bonds throughout the world. You can do this with two funds -- then leave them alone."
Some of the stocks that he mentions are:
Wells Fargo & Co (WFC)
International Business Machines Corp. (IBM)
Deere & Company (DE)
AT&T, Inc. (T)
The Coca-Cola Co (KO)
You must make your own decision though and it can be useful to talk with a few financial advisers first, before making any moves.
5# Diversification and Dividends
Funds can be volatile. This is why it can be a strategy to manage risk, by having an assortment of funds, products that follow indexes, or other diversified securities. In a diversified portfolio, you spread investments among various asset classes. So the major ones are:
Bonds: Essentially you lend money to your bank, and they pay you interest over a fixed amount of time. These are considered to be quite safe, but can have a low rate of return.
Mutual funds and stocks or equities: Stocks in a company mean that you own a part of those companies. As an investor you can go with companies that pay dividends to their shareholders, which is good. Though on the other hand, this is considered riskier because a company can grow or shrink easily. One way of diversifying the risk is to own mutual funds because they are baskets of stocks. This way, a poorly performing company or sector is offset by organizations or industries that are performing better.
Extra# ProTip: Invest in what you believe in
Allocate part of your portfolio to funds that are making a difference in something that you believe
in. In doing this you are contributing to something much more valuable than making money on the stock market. You are contributing to an idea and better future. Here are some interesting
options for you to check out:
Pax Elevate Global Women's Index Fund (PXWEX), seeks to invest in the top stocks of companies advancing women's leadership
SPDR Gender Diversity Index ETF (SHE), invests in companies that have women in "CEO, board or senior leadership" positions
MSCI Global Impact ETF, an index composed of positive impact companies that derive a majority of their revenue from products and services that address at least one of the world's major social and environmental challenges as identified by the United Nations' Sustainable Development Goals.
It's Your responsibility
Of course, there is risk in every single investment. Before engaging in the market with a broker, you need to evaluate the overall fees and charges of that firm. Consider the services provided as well. Make sure to read the fine print and the additional information about arrangements, conditions, fees and compensation.
The operative word here is manager. You are the CEO of your life, and you need to be on top of your financial portfolio.
So the goal is...
The goal is to grow and share your wealth. This starts with being mindful about money. Have you set up your portfolio? How is it going? Share your thoughts with us. We are just as much inspired by, you as you are by Eve and Elle.
The Next Step
Discover Seminars
and learn how to increase your A-game. We'll help you identify and work toward your #lifegoals.
I have a question:
If you have questions or inquiries, please don't hesitate to mail us at: info@eveandelle.com